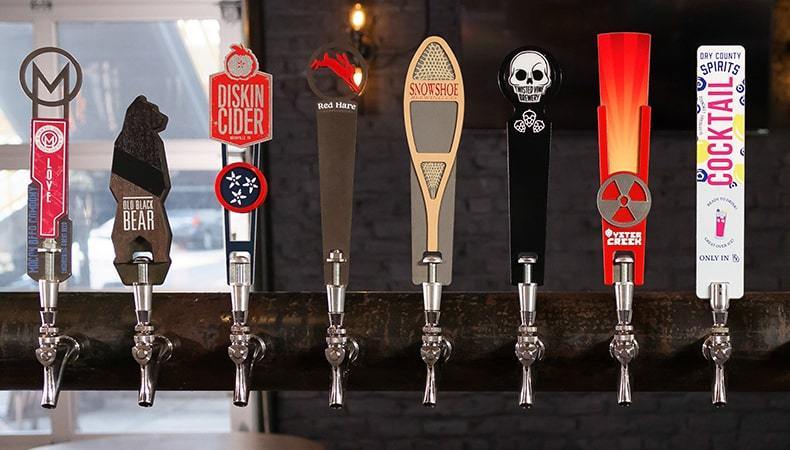 Beyond Beer: Hard Cider, Coffee, Kombucha Tap Handles & More
Have we mentioned that we're no one-trick pony? The craft beverage market is booming, and we are stoked to craft custom tap handles for anything you're pouring: kombucha, hard cider and seltzer, tea, coffee... tequila. If you want it on the tap line, we've got you covered.
Beyond craft brew gurus, our clients run the gamut: small batch kombucha brewers, hard cider aficionados, coffee connoisseurs, tea enthusiasts, and even celebrity distillers (Maybe stay tuned for name dropping in the near future?). Whether you identify with one of these badass beverage makers or deserve a toast for your novel approach to the booze industry, our team is eager to help you and your brew stand out in crowd.
Here a few common questions we field from potential new clients who aren't beer nerds or hop heads...
What kind of tap handles can Steel City Tap Co. manufacture in the USA?
The short answer is all of them. From American-sourced resin and wood to Alabama steel, every tap handle we make comes together right here in our Birmingham warehouse. Design work, prototyping, mold making, and hand-painted finishing touches. Our ambitious and artistic team would ask: What kind of tap handles can't we make?
What if I'm brewing up batches of kombucha for my new kombucha bar?
The demand for kombucha tap handles is definitely on the rise. With more home brewers taking the leap and opening small businesses, the kombucha tap room and local kombucha bars are gaining solid footing in the craft beverage arena. We've designed several custom handles and semi-custom tap handles for companies serving up these zesty fermented sippers.
If I'm distilling the smoothest, most delicious vodka or tequila of all time, can I get a tap handle made to serve the masses?
Totally. Some of our most exciting projects over the past few years have been with distillers and clients who are passionate about serving their craft spirits on a tap line. Liquor on tap? Yes, please! The process for designing and manufacturing a handle for gin, whisky, moonshine, pick your poison, is essentially the same as bringing to life a beer tap handle. Around here, imagination and creativity flow as freely as Champagne on New Years Eve. And yes, we have even done a Champagne tap handle.
What about non-alcoholic drinks, like coffee and tea?
Why not? Cold brew coffee deserves a tap handle that makes a statement. Custom tap handles for a lineup of flavored teas sounds just as rad. No project is too small either. We fill single orders and we fill orders for thousands of handles. As a small family-owned business, we know every idea starts as a seed with potential to grow. 
Hard cider is our jam. Should I invest in American-made tap handles for my cider?
If you're on the fence about investing in custom tap handles made in the USA (instead of China), check out our previous post Are Custom Tap Handles Really Worth the Investment? To summarize, we certainly think it's worth it and we can't wait to chat about your ideas for a unique hard cider tap handle design. 
Call or email Brad today talk about how to stand out from the tap line crowd, no matter what you've got brewing.