Custom Wood Tap Handles
Custom wood tap handles provide a unique material design while maintaining a cost efficient strategy for your brewery or business. We use the highest quality American sourced wood to bring your vision to life.
Get Your Tap Quote
Custom Wood
Tap Handle Process
Creating tap handles from wood requires creativity, precision, and processes that demand quality. Here's a sneak peek into our process for your tap.
American Materials
Our tap handles are made using premium American-sourced wood. We cut to size with the best CNC machinery available that procures the perfect shape and design. The tap handles then pass through a multi-step sanding process.
Proprietary Technology
After sanding, each tap is sent through proprietary finishing processes to achieve the perfect look for the design. This includes painting, staining, flame treating, or other finishing techniques.
Artisan Finishing
We then send the custom wood taps to our print shop where they are given the final aesthetics. Before shipping, the handles are cleanly ferruled and packaged.
Custom Wood Tap Handle Gallery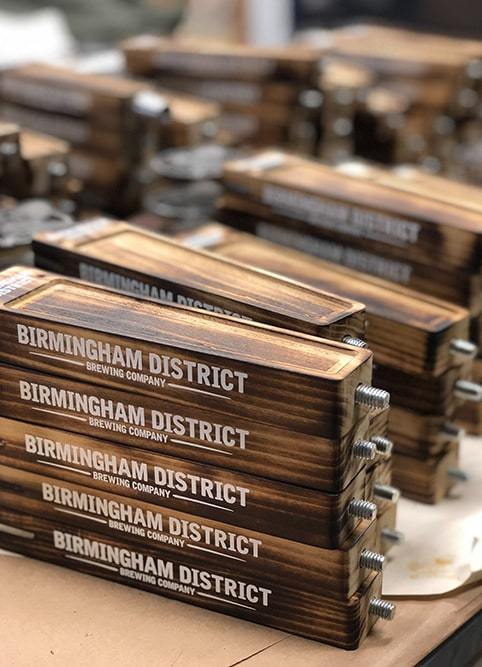 We love the tap handles that Steel City made for us. It's especially great to know that they are made in the US. The quality is noticeably higher than the ones we had been purchasing before.
Tara Goulet - Birdsong Brewing
We started working with Steel City Taps to refresh our brand presence in market. We worked closely to design a tap handle and the design and production team at SCT's knocked it out of the park. We pay a little more for tap handles than we were paying from an out of country manufacturer, but the turn around time is much faster. Also, in the first month of changing to the new tap handles designed by Steel City we saw a 40% lift in YOY volume at our top 15 accounts. You read that right, 40% lift. We could not be happier with our experience with Steel City Taps.
Carl Meier - The Black Abbey
Testimonials
"I reached out to Steel City Tap Co. after having some shipping issues with a previous company I had been dealing with for almost 6 years. Right from the start Brad and Michael have been a pleasure to deal with as both of them took the time to talk to me multiple times over the phone and through multiple emails to ensure that the product we were looking for would be as good and or better than what we were currently buying. The quality of the Handle that we were sent to look at was above and beyond what I thought we would get. If you are looking for a tap handle I would strongly recommend Steel City!"
Fred Malone
Ft. Meyers Brewing
"We had a great experience, Brad was very attentive and listened to all our wishes and was very careful and proactive. We are definitely working together from now forward, we love our handles!"
Franciane Medina
Ohana Kombucha
Partners