Custom Acrylic Tap Handles
Custom acrylic tap handles provide a unique material design while maintaining a cost efficient strategy for your brewery or business. We use the highest quality American sourced acrylic to bring your vision to life.
Get Your Tap Quote
Custom Acrylic
Tap Handle Process
Creating tap handles from acrylic requires creativity, precision, and processes that demand quality. Here's a sneak peek into our process for your tap.
American Materials
We use American-sourced acrylic for all premium acrylic tap handles. Each tap handle is cut to size and placed on the CNC machine that cuts the specific shape of the design.
Proprietary Technology
The handles then pass through a multi-step proprietary sanding process.
Artisan Finishing
After sanding, each tap is sent through the necessary finishing processes to achieve the perfect look for the design (paint, sticker, print). Before shipping, the handles are simply ferruled and packaged.
Custom Acrylic Tap Handle Gallery
Watch what The Black Abbey Brewing Company has to say about their experience working with Steel City Tap.
The Black Abbey Brewing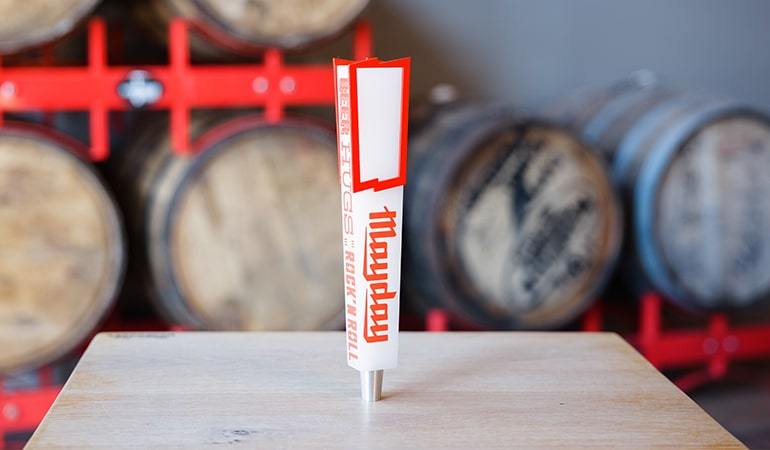 Mayday Brewing Co's
"BEER. HUGS. ROCK'N ROLL"custom acrylic tap handle
Testimonials
"Very easy to work with and provided us with a great design."
Black Water Brewing
Aaron Sullivan
"The folks at Steel City Tap Co. are absolutely top-notch. I just told Brad and his crew that I wanted a tap handle for my dad for Father's Day and that he liked John Wayne, and they took from there. Very highly recommended. You will not be disappointed. I am thrilled."
Jon Paepcke
Partners