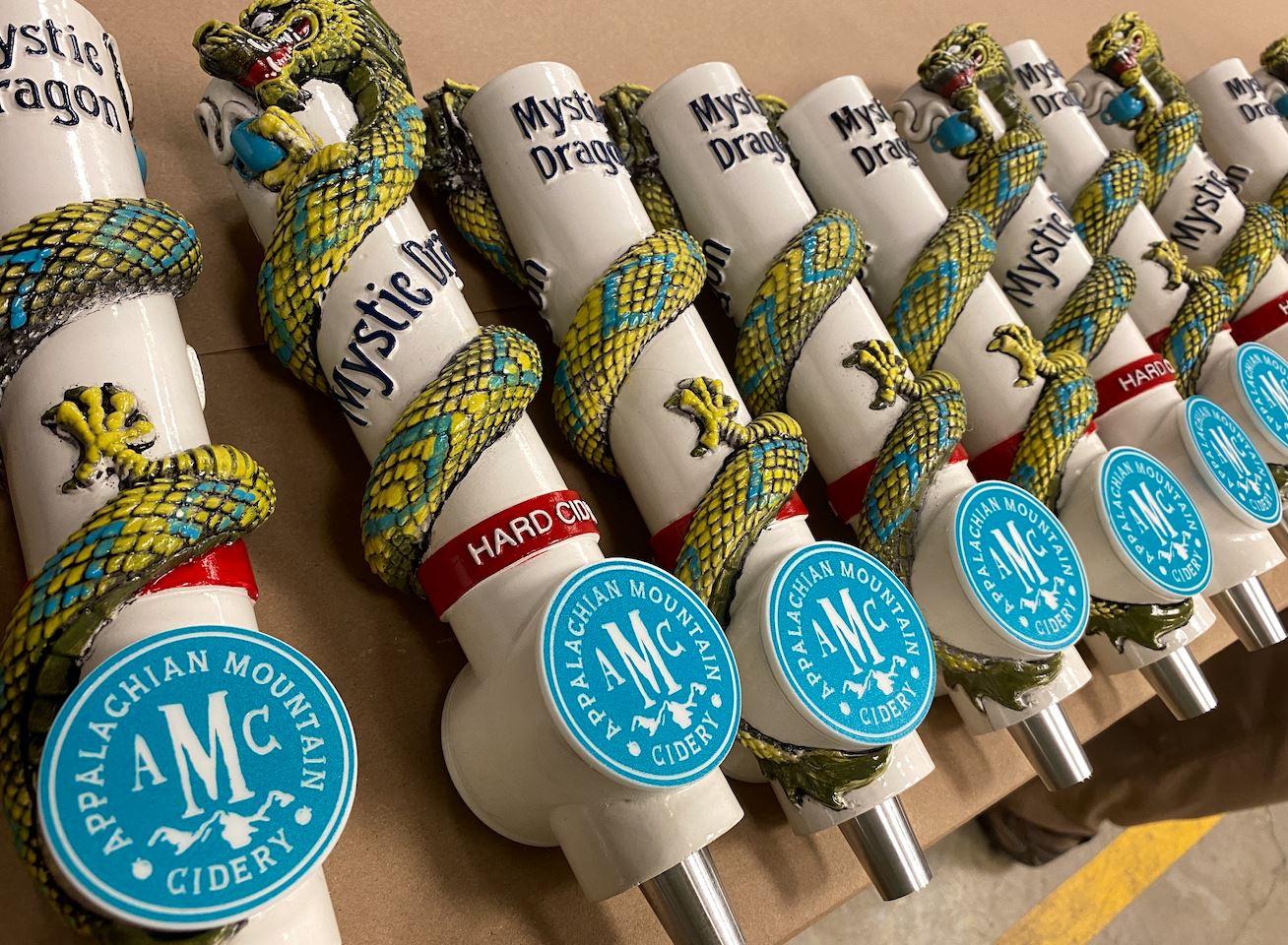 Mystic Dragon Cider Heats Up the Tap Line
What's more fire than a creative tap handle? We think Appalachian Mountain Brewery would agree: a dragon sipping a piping hot cup of tea, wrapped around a hand-crafted Steel City Tap Co. handle, is scorching hot. 
This brand-new design for Appalachian Mountain Brewery's Mystic Dragon Cider is ready for its close-up. Check out the video below as MJ does the honors.
An apple-based hard cider, Mystic Dragon is brewed by Appalachian Mountain Brewery in Boone, North Carolina. It's infused with green tea, rhubarb, and strawberries to give it a mysterious sweetness that pairs perfectly with spicy foods. 
"Appalachian inspired beer and cider with a Southern twist."
High-quality craft beer and hard cider are as important to the AMB team as philanthropy, community, sustainability. Since they launched in 2013, the founders have partnered with local farmers and producers as well as environmental-protection organizations like BeeDowntown and The Longleaf Alliance.
Plus, a portion of the proceeds from every case of beer AMB sells goes to their public charity, We Can So You Can. The foundation supports community growth and natural preservation. Not sure about you, but knowing that we can help save a river or a mountain by drinking a craft brew, just gives us the warm fuzzies.
And while dragons may not be fuzzy or cuddly, they definitely fan a flame of intrigue when hanging out on the tap line. Hand-painted details, from the gnarly teeth and steaming teacup to the brightly colored scales, give the Mystic Dragon tap handle the kind of wow-factor AMB wanted for this flavorful and popular hard cider. 
Drop by the Appalachian Mountain Brewery pub next time you find yourself in their neck of the woods. Hazy IPAs, fruity ciders, and refreshing lagers keep company with plenty of inventive seasonal brews. Keep up with them on Instagram, and let us know what you think about the Mystic Dragon tap handle when you spot it in the wild...
Don't forget to mark your calendar for the 2021 Craft Brewers Conference in Denver, Colorado, September 9–12. Meet the Steel City Tap team in booth #4504, and enjoy a FREE sketch session with our talented designers!