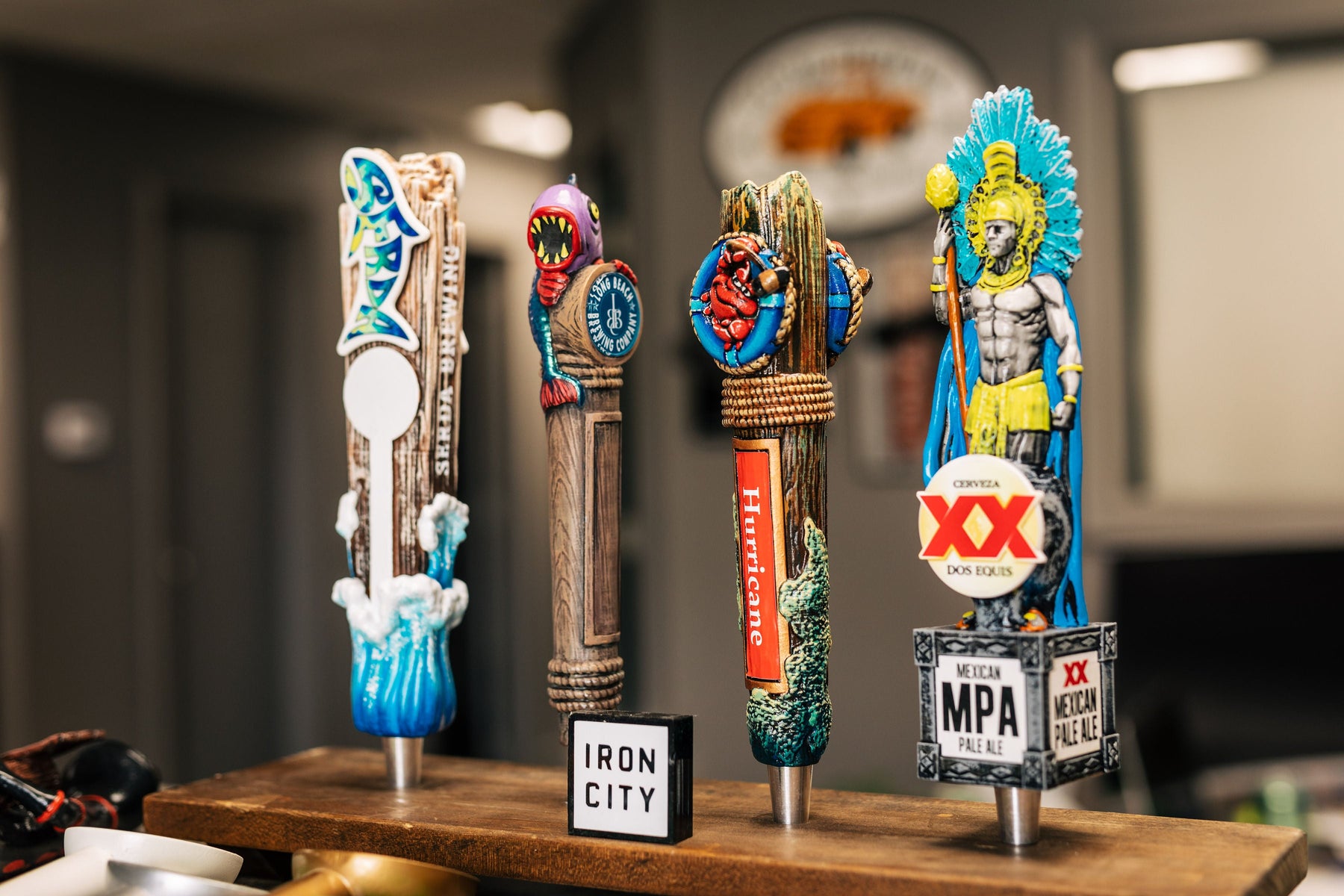 7 Elements That Make a Great Custom Beer Tap Handle
Tap handles are essential for breweries because they help to sell more beer and create a more inviting atmosphere. Custom tap handles are especially useful because they can be designed to match a brewery's brand and beer. We believe in the power of custom tap handles because we have seen firsthand how they can help a brewery succeed.
In other words, you can't just design a tap handle without thinking about how each element will work together. The shape, color, finish, size, style, and ferrule must be considered to create a great tap handle. Here's how each element factors into the whole look and function of a tap handle:
1. Shape
A beer tap handle must be designed well to be effective. This means taking into account the branding and style of the brewery, as well as the interior design of the brewery. This research will help to ensure that the tap handle can seamlessly integrate into the brewery's atmosphere.
2. Material
After we know the shape, we decide on the materials. The type of materials we use depends on the tap handle's shape. Metal and wood are limited to how complex the shape can be, but they offer a quality feel to the tap handle. A 3D molded resin may also be used for more complex designs, which allows for more sophisticated forms.
3. Color
After the form of the tap handle is decided, colors are added to continue developing the style of the handle. The selection of colors is important to ensure the handle will fit well with the rest of the brewery's brand identity. Different breweries will require different combinations of colors, depending on whether they want a shiny, glossy, subdued, bright, natural, or electric handle. 
A handle's color does not always guarantee that it will stand out to customers and catch their eye; similarly, a dark-colored handle may not always be overlooked. Every handle is unique; if done correctly, any combination of colors can attract customers.
4. Finish
The finish of a tap handle, whether matte or shiny, is an important factor to consider when choosing a color because it can add an extra layer of complexity that helps the handle better relate to a brewery's style.
5. Size
The size of a tap handle can be important for both practical and personal reasons. It is often best to decide on the size later in the process so the handle can be shown in both tall and short options. The short style, often called a shotgun tap handle, is making a comeback in the tap handle industry. 
Some breweries ask for both tall and short versions of a single style of handle for different types of locations. Some bars in large, populated cities prefer shorter tap handles to reduce clutter behind the bar.
6. Style Versatility
The ability to show different beer styles is always important, especially when using tap handles to market individual brews. While it would be great to have a uniquely molded tap handle for each beer style, most breweries cannot afford this option. 
More affordable methods, such as decals, magnets, color coding, and removable toppers, can showcase multiple beer styles with one tap handle body. Magnetic beer styles are the most popular of these methods because they are attractive, affordable, and can be easily updated when beer styles change.
7. Ferrule
The kind of ferrule that best compliments the handle is usually influenced throughout the other design phases, such as when deciding the shape, size, color, and finish. Shape and size help to decide between the two styles of the ferrule: internal or external. 
If the ferrule is external, we decide on a color and finish that will best complete the design. This feature can easily be overlooked, but if done properly can truly complete a tap handle's appearance.
Conclusion
A great custom tap handle should be eye-catching, memorable, and unique. It should be made of high-quality materials and withstand repeated use. Additionally, it should be easy to grip and comfortable to hold. Ultimately, a great custom tap handle will help promote your brand and stand out from the competition.
Steel City Tap creates unique American-made beer tap handles, keg collars, stickers and more for breweries, distributors and beer bars. At our factory in Birmingham, Alabama, your tap handle is transformed from a budding idea into a tangible marketing tool. Our expert in-house team makes each tap handle, putting hands on the product from start to finish for superior craftsmanship. In as little as six to eight weeks, your taps will be ready to represent your brand in the best possible way. If you're interested in having your own custom beer tap handle, get in touch with us and let's talk!